A Bloody Zombie Soundtrack Mix !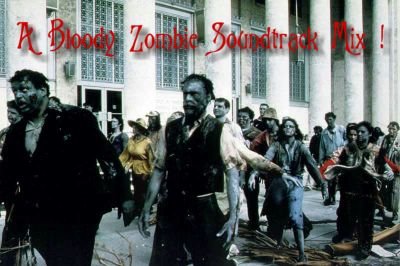 A friend of mine asked me to choose some songs that I'd put into a zombie movie . Fool ! As I was eating in my fav restaurant with my best friend Johnny Cool Da Mother Mp3 Player, I realised that people around me were actually zombies. I'm half kidding. Look at the way they act, talk, eat…
So here's the result :
a strange Zombie Mix.
Run for your lives children, and enjoy !
Rev Frost Presents…A Bloody Zombie Soundtrack Mix !
(47 :13)
(aka They're coming to get you Barbara)
1. Hillbilly Soul Surfers – Maelstrom
2. The Eyes – When The Night Falls
3. Larry Williams - Heebie Jeebies
4. Buff Medways – Troubled Mind
5. Chackmates Ltd – Do It To Deff
6. The Kinks – Till The End Of The Day
7. Crook Brother's String Band – My Wife Died Friday Night
8. Duane Eddy – Stalkin'
9. Space Cossacks – Journey To The Stars
10. The Stooges – Down In The Street
11. Rocky And His Friends – You Weren't Using Your Head
12. Joe Tex – You Little Baby Face Thing
13. The Standells – Why Pick On Me
14. Claude McLin – Jambo
15. The Stairs – Russian R&B (The World Shall Not Be Saved)
16. Charley Patton – Prayer Of Death
(With a lil' help from
Claude Simonetti's Goblin
of course)
A Bloody Zombie Soundtrack Mix !
(via rapidshare)