Lordy Hoody !
Rockabilly artist Tommy Blake, like so many before him, started his career as a straight-ahead country singer before making the switch to the big beat. Born and raised in Shreveport, LA, Blake (born Thomas Givens) was already working in a teenage combo playing country music at station KTBS in the early '50s. After a one-off session for RCA Victor, yielding a track called "All Night Long," Blake met Sam Phillips and re-recorded the same tune for Sun as "Lordy Hoody." By March of 1958, Blake was back at 706 Union recording more material, with another single seeing release and the rest finding its way into rockabilly history via reissues in the 1970s and '80s. For the record, he was killed by his wife in a domestic dispute over the Christmas holidays in 1985.
Tommy Blake & The Rhythm Rebels - All Night Long
Tommy Blake & The Rhythm Rebels - Honky Tonk Mind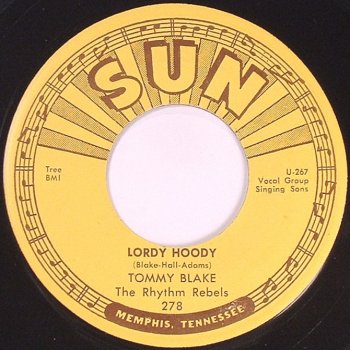 Ps: Does anyone know where the hell is Mr Barf?