Calvin Boze !
Remembered as being a senior - and the school bandleader - by Charles Brown at Prairie View College in Texas, trumpeter Boze (or Boaz, as his name appears earlier) first came to the public's attention on recordings with the west coast bands of Russell Jacquet (Globe) and Marvin Johnson (G&G).
In 1949, he began recording as a vocalist in a strong Louis Jordan vein for Aladdin Records with Maxwell Davis and his band.
Although he never made a huge impression on the R&B charts, his recordings were all solid, earthy R&B jive. He is best known for "Safronia B" and the b-side - Boze's celebration of his adopted home - "Angel City Blues", as well as a couple of songs he wrote for old homeboy Charles Brown - "Texas Blues" and "Hot Lips And Seven Kisses" - also recorded for Aladdin.
Calvin Boze - Blow Man Blow
Calvin Boze - Keep Your Nose Out Of My Business
Calvin Boze - Safronia B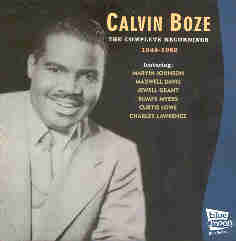 FRIDAY BONUS !!!

Tony Harris - Try This Lil' Ole Heart