Hell Bent For Leather
I really wanted to play "I Hate People" this morning, but I'll try to stay zen and cool...so bring me the whip and let's talk about Frankie.
Frankie Laine
was one of the most popular vocalists of the 1950s, swinging jazz standards as well as half a dozen Western movie themes of the time with his manly baritone. Born in Chicago in 1913, Frankie Laine sang in the local church choir and first performed professionally at the age of 15. Frankie Laine's Columbia career saw him move toward husky country & western pop with arrangements and orchestra conduction by
Mitch Miller
. Laine really found his niche with themes/soundtracks, scoring big with "Gunfight at the O.K. Corral" (1957), "The 3:10 to Yuma" (1957), "The Hanging Tree"(1959), "Blazing Saddles"(1974) and the song he is most associated with in Western circles today, "Rawhide," recorded in 1959.. Almost 90 years of bein' around. And you can hear it in his voice. Yep, bring me the whip.
Frankie Laine - Rawhide
Frankie Laine - Gunfight At The Ok Corral (Alternate)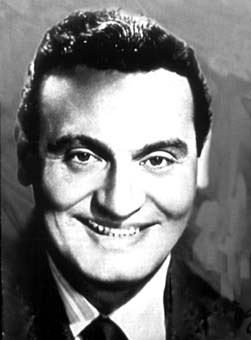 And Thank god it's friday, so here's an extra !
Sheriff And The Ravels - Shombolar
Remember, the great googa-mooga loves you all. See you on Monday.