Jungle Rock !
Ok, We're back in buziness !
In 1956 Hank Mizell moved to Chicago where he formed a combo with guitarist Jim Bobo, bass player Eddie Boyd and drummer Bill Collins.
In the autumn of 1958, Mizell and Bobo were approached by Gene Parsons, a local country vocalist who had set up his own record label, Eko Records.
Parsons had converted his garage into a makeshift recording studio and it was here that Mizell and his band recorded the rockabilly novelty "Jungle Rock", as well as two other songs. Parsons achieved wonders with the limited technology at his disposal, conjuring up a thick, bottom heavy sound.
The first pressings of "Jungle Rock" on Eko 506 wrongly credited Jim Bobo as both the writer and the artist, and Parsons had the single re-pressed with Mizell's name on the label !
Hank Mizell & Jim Bobo - Jungle Rock
Hank Mizell - I'm Ready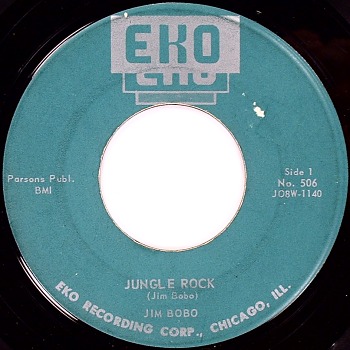 BONUUUUUUS !

Bo & Joe & The Niteriders - Jungle Rock

AND MORE BONUS FROM SHANE'S CORNER !

Dead Elvis-The CreatureStole My Surfboard

Henry Hall - Hush, Hush (Here Comes The Boogeyman)