Les Filles !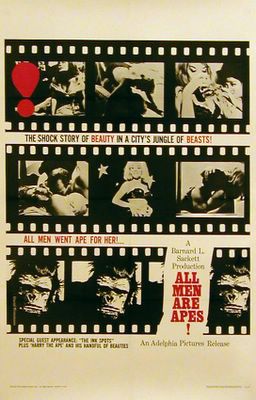 Charlotte Leslie (real name Rosetta Aiello) released her first record under the name of Catherine Alfa. Lucien Morisse, director of AZ records introduced her to Jimmy Walter and Boris Vian who wrote the lyrics of her debut song. The record gained airplay on radio station Europe 1.
This success lead to a second EP for AZ before Rosetta signed with Polydor. Guy Mardel, successful singer and friend suggested she changes her stage name to Charlotte Leslie (Leslie is the name of the vibrato effect on hammond organs).
Her first EP on Polydor of which included 'Les filles, c'est fait pour faire l'amour' ('Girls are made to make love') a daring fuzzed-up cover of The Capitols 'We got a thing that's in the groove' (with really stupid & funny lyrics actually), marked a radical change of style.
While the track is great, it was a strange choice which proved a little too controversial for many radio stations.
That's why we like it here.
Charlotte Leslie - Les Filles C'est Fait Pour Faire L'Amour
HERE COMES THE BONUS LITTLE DARLING
Mädchen Die Sich Selbst Bedienen
(Ach, Be Careful )
REPOST
Frankie Stein & His Ghouls - Mummy's Little Monster
Jackie Morningstar - Rockin' In The Graveyard
Have a great weekend !